In this Hostinger review, you'll learn about all what you need to know about Hostinger.
Introduction to Hostinger Review
Welcome to my comprehensive Hostinger review for the year 2023. In this detailed analysis, we'll take an in-depth look at Hostinger's performance across various pricing plans, and evaluating its hosting services of hands-on experience.
Hostinger has earned its reputation as an affordable and user-friendly web hosting provider. Our goal is to provide you with a clear and unbiased assessment of Hostinger's features, pricing, server performance, and support quality.
Whether you're a seasoned website owner or a beginner in the world of web hosting, this Hostinger review aims to guide you in making an informed decision about your hosting needs. So, let's dive into the world of Hostinger and explore what it has to offer in 2023.
Table of Contents
Background Information
Hostinger, a prominent player in the web hosting industry, boasts a compelling history and an excellent reputation. Founded in 2004 by a group of tech enthusiasts from Kaunas, Lithuania, the company embarked on a journey to make web hosting accessible to everyone. Over the years, Hostinger has expanded its reach, serving millions of customers across the globe.
One of the notable aspects of Hostinger's history is its dedication to innovation and affordability. The company has consistently sought ways to provide high-quality hosting services at budget-friendly prices. This commitment to affordability has earned Hostinger a reputation as a go-to choice for individuals, small businesses, and startups.
Hostinger's global presence extends to over 150+ countries, with data centers strategically located in various regions, ensuring top-notch performance and reliability. This geographical diversity contributes to its reputation for excellent server uptime and page loading speeds.
Furthermore, Hostinger's dedication to customer support is another facet of its esteemed reputation. The company offers 24/7 support through live chat, email, and knowledge base, ensuring that customers have assistance whenever they need it.
Hostinger's history is marked by a commitment to democratizing web hosting, making it an affordable and accessible service for all. Its reputation in the industry is built on a solid foundation of innovation, affordability, global reach, and top-tier customer support.
Features and Services
Hostinger offers a diverse range of hosting plans to cater to a wide spectrum of website hosting needs. Here's an overview of the various hosting plans they provide:
Shared Hosting:
Hostinger's Shared Hosting is an excellent choice for beginners and small websites. Plans start as low as $1.99 per month and offer cost-effective hosting for single sites. There are also premium plans that support multiple sites or allocate more resources.
VPS Hosting:
Virtual Private Server (VPS) hosting provides more power and control. Hostinger's VPS hosting plans range from $3.95 to $29.95 per month, making them suitable for businesses with moderate to high traffic.
Cloud Hosting:
Cloud Hosting combines the best of shared and VPS hosting. It offers scalability and high performance. Hostinger's Cloud Hosting plans start at $9.99 per month (billed annually) and renew at $24.99 per month.
WordPress Hosting:
Hostinger offers specialized hosting for WordPress users. These plans are optimized for the WordPress platform and include features like pre-installed WordPress, WordPress acceleration, and LiteSpeed Cache. Prices start at $1.99 per month.
Email Hosting:
If you need professional email hosting, Hostinger has options for that as well. You can get personalized email addresses for your domain.
Business Hosting:
Designed for e-commerce and high-traffic websites, Business Hosting offers additional resources and features to support demanding websites.
Reseller Hosting:
Hostinger's Reseller Hosting plans enable you to start your hosting business. You can sell hosting services to your clients using their infrastructure.
Each of these hosting plans caters to specific requirements, whether you're running a personal blog, an e-commerce store, or a business website. The wide range of options ensures that you can find a hosting plan that aligns with your needs and budget.
Hostinger's transparent pricing and features make it a popular choice for hosting services, and their commitment to affordability and performance continues to attract customers from around the world.
Hostinger offers a comprehensive array of key features and services to enhance the hosting experience for its customers. Here's a discussion of some of the prominent offerings:
Website Builder:
Hostinger provides a user-friendly website builder that allows even beginners to create stunning websites without the need for coding knowledge. The builder offers a variety of templates, drag-and-drop functionality, and customization options.
Domain Registration:
Hostinger offers domain registration services, allowing customers to both host their websites and register domain names in one place. This simplifies the process of launching a website and managing its online presence.
Free Domain:
Hostinger plans include a free domain registration for the first year, further streamlining the process of establishing an online presence.
SSL Certificates:
Hostinger provides free SSL certificates for enhanced website security. SSL encrypts data transmitted between the user's browser and the web server, ensuring a secure browsing experience.
Email Hosting:
Hostinger offers email hosting services, allowing users to create professional email addresses using their domain. This feature is essential for businesses and individuals who want a customized and branded email identity.
One-Click Installations:
Hostinger offers one-click installations for popular web applications like WordPress, Joomla, and more. This simplifies the process of setting up various software applications on your website.
SSD Drives/NVMe Storage:
Many hosting plans utilize SSD (Solid State Drive) and NVMe storage technologies, which significantly improves website loading speeds and overall performance.
Git Integration:
For developers, Hostinger offers Git integration, making it easy to manage and deploy code repositories.
24/7 Customer Support:
Hostinger provides round-the-clock customer support through live chat and email. Their support team is responsive and knowledgeable, assisting customers with any issues or inquiries.
Uptime Guarantee:
Hostinger offers an uptime guarantee, ensuring that your website remains accessible to users with minimal downtime.
Backups:
Hostinger offers automated backups on some plans, allowing users to restore their websites to a previous state in case of data loss or issues.
Security Features:
Hostinger includes security features like DDoS protection and firewall rules to safeguard websites from online threats.
Hostinger's focus on user-friendliness, affordability, and feature-rich hosting has made it a popular choice for individuals, small businesses, and developers. Whether you're a beginner looking to create a website or a seasoned professional in need of advanced hosting services, Hostinger's diverse features and services cater to a wide range of needs.
Performance and Uptime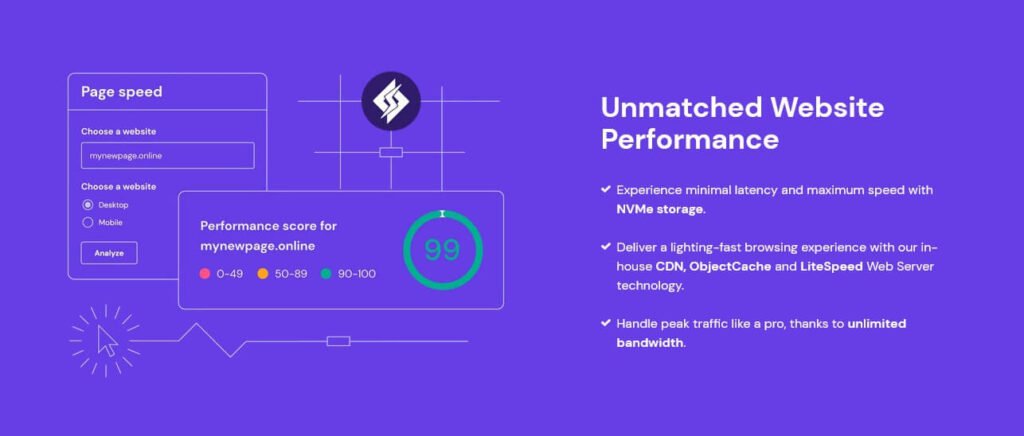 Evaluating Hostinger's server performance is crucial in assessing its suitability as a web hosting provider. Here, we delve into the two key aspects of server performance: loading speeds and uptime:
Loading Speeds:
Hostinger is known for its impressive loading speeds, largely attributed to its utilization of SSD (Solid State Drive) and NVMe technologies. SSDs are significantly faster than traditional HDDs (Hard Disk Drives), allowing for quicker data retrieval and faster website loading times. Hostinger's hosting infrastructure, including its cloud hosting, is optimized to harness the power of SSDs. This results in websites that load swiftly, creating a positive user experience and potentially improving search engine rankings.
Uptime:
Hostinger offers an uptime guarantee, ensuring that websites hosted on their servers remain accessible to users with minimal downtime. They have a strong track record in terms of uptime, often exceeding the industry-standard 99.9% uptime guarantee. Factors contributing to their uptime reliability include data center redundancy, network stability, and proactive server monitoring. The robust infrastructure and preventive measures mean that Hostinger customers can rely on their websites being available to visitors consistently.
It's important to note that individual website performance can vary based on factors such as the specific hosting plan chosen, website optimization, and traffic levels. However, Hostinger's commitment to providing fast loading speeds and high uptime contributes to their overall positive reputation in the hosting industry.
Hostinger's consistent focus on server performance ensures that users experience minimal disruptions and fast website loading times, making it a viable choice for individuals and businesses looking for reliable and high-performing web hosting services.
Hostinger incorporates several unique technologies and tools that significantly contribute to its hosting performance. Here are some of the key innovations:
LiteSpeed Web Server:
Hostinger employs the LiteSpeed web server, which is known for its exceptional performance and efficiency. LiteSpeed can handle a large number of simultaneous connections with minimal resource usage, resulting in faster loading times and a more responsive website.
LiteSpeed Cache:
Hostinger offers LiteSpeed Cache, a powerful caching solution that enhances website speed and performance. It stores frequently accessed content and serves it to visitors more quickly, reducing server load and improving load times.
Custom hPanel Control Panel:
Hostinger has developed its custom control panel, hPanel. This user-friendly interface streamlines website management and includes features that optimize performance, such as one-click installations and quick access to website tools.
AI Website Builder:
Hostinger's website builder, integrates AI (Artificial Intelligence) to assist in creating and optimizing websites. This technology helps users design websites that load efficiently and perform well on various devices.
Data Center Locations:
Hostinger strategically places its data centers in various regions worldwide. Multiple data centers mean that content can be served from the location closest to the website visitor, reducing latency and improving loading speeds.
HTTP/2:
Hostinger supports HTTP/2, the latest version of the HTTP protocol. HTTP/2 offers faster data transfer between servers and browsers, resulting in improved website loading speeds.
Optimized WordPress Hosting:
Hostinger offers specialized hosting for WordPress websites, including pre-installed WordPress, server-level caching, and other performance-enhancing features designed to maximize the efficiency of WordPress sites.
CloudFlare Integration:
Hostinger provides CloudFlare integration for enhanced security and content delivery. CloudFlare's content delivery network (CDN) improves loading speeds and protects websites from online threats.
These unique technologies and tools demonstrate Hostinger's commitment to performance optimization. By incorporating innovative solutions and staying at the forefront of hosting technology, Hostinger ensures that its customers experience fast, reliable, and high-performing hosting services.
Hosting Types
Hostinger offers a diverse range of hosting types to cater to the varied needs of its customers. Here's an explanation of the four primary hosting types provided by Hostinger:
Shared Hosting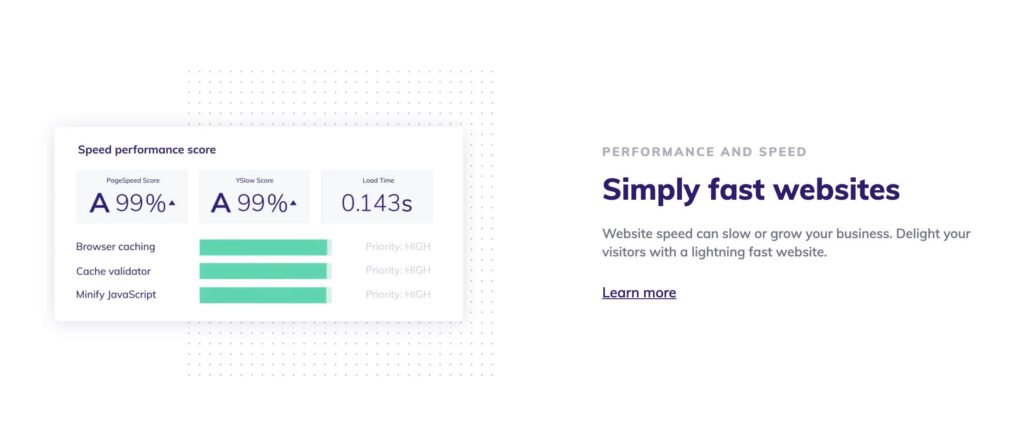 Shared Hosting is an ideal choice for beginners and those with smaller websites. In this hosting type, multiple websites share resources on a single server.
Hostinger's Shared Hosting is cost-effective, making it accessible to individuals and small businesses. It's suitable for websites with moderate traffic and offers plans that support multiple sites or allocate more resources for increased performance.
Hostinger offers a variety of Shared Hosting plans, each designed to accommodate different website needs and budgets. Here's an expansion on the Shared Hosting plans provided by Hostinger:
Single Shared Hosting:
The Single Shared Hosting plan, which starts at $1.99 per month, is Hostinger's most basic and cost-effective option. It's designed for individuals or small websites.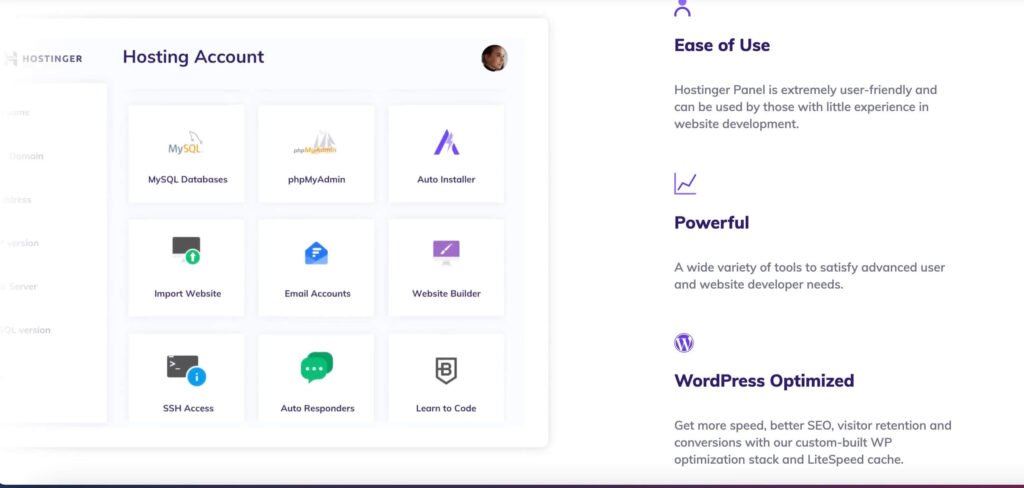 With this plan, you can host a single website and receive limited resources. It's an excellent choice if you're just starting your online journey, such as a personal blog or a small portfolio website.
Premium Shared Hosting:
The Premium Shared Hosting plan is a step up from the Single plan. It offers more resources, allowing you to host unlimited websites on a single account. This plan is ideal for small businesses or individuals who plan to manage multiple websites from a single hosting account.
Business Shared Hosting:
The Business Shared Hosting plan is tailored for e-commerce websites and high-traffic projects. It provides enhanced resources, including more processing power and memory. Additionally, it includes a free SSL certificate, daily backups, and a free domain. This plan is perfect for those who need a reliable hosting solution for their online stores or business websites.
Cloud Shared Hosting:
Hostinger's Cloud Shared Hosting combines the benefits of shared hosting with cloud technology. It offers improved performance and scalability, making it suitable for websites with fluctuating traffic. With resources distributed across a cloud infrastructure, it provides faster loading speeds and higher reliability, ensuring a seamless web hosting experience.
Shared Hosting with Hostinger is characterized by its affordability and user-friendly features. It's an excellent choice for beginners and small to medium-sized websites. The ability to choose from various plans means you can scale your hosting as your website grows. The free website builder, one-click installer, and 24/7 customer support contribute to making Shared Hosting with Hostinger a popular choice for those seeking an accessible and feature-rich hosting solution.
VPS Hosting (Virtual Private Server)
VPS Hosting is a step up from Shared Hosting and provides more control and dedicated resources. Hostinger's VPS Hosting plans are suitable for businesses and websites with moderate to high traffic. Customers get their virtual private server with guaranteed resources, offering increased reliability and performance. It's an excellent choice for those who require a more robust hosting solution.
Cloud Hosting
Cloud Hosting combines the benefits of shared hosting and VPS hosting with added scalability and high performance. Hostinger's Cloud Hosting plans are powered by a cloud infrastructure, offering resources on-demand. This ensures that your website can handle traffic spikes and provides superior loading speeds. Cloud Hosting is an excellent choice for those looking for the best of both worlds.
WordPress Hosting
Hostinger offers specialized WordPress Hosting, designed for users of the popular WordPress content management system. These plans are optimized for WordPress, with features like pre-installed WordPress, server-level caching, and LiteSpeed Cache. WordPress Hosting is tailored to provide optimal performance for WordPress websites, making it easier to manage and maintain them.
Each of these hosting types serves distinct purposes, allowing customers to choose the one that aligns with their specific requirements. Whether you're starting a personal blog, running a business website, or hosting a WordPress site, Hostinger's hosting options are designed to provide the right balance of features, performance, and cost-effectiveness.